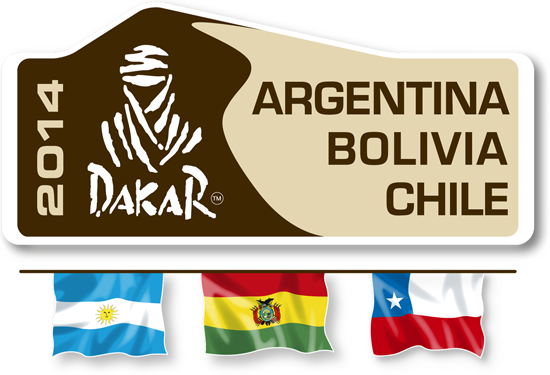 video:

Dakar 2014
landed in Latin America again, visiting Argentine, Bolivia and Chili this time.
Patrick Hendriks
is again part of the famous rally, for years he makes it easy for teams to follow the rally on location by personal monitors and LED screens. The
Dakar Rally 2014
starts in Argentine, than Bolivia and the rally will continue to finish in Chili like in 2013, it will be tough, hot and long days. Patrick will try to do some updates of his job on this blog at the time of the
Dakar 2014 Rally
.


Patrick Hendriks: "After a long trip team and equipment arrived well in Argentine, South America for the 2014 version of the Dakar rally".




It's HOT in the desert, check the airco tubes to cool all down.


"The setup is the same as last years edition, of course we did minor chances to make our setup even better. And our team grow with 100%, we are now with 2 persons on location :) " Patrick explains.



Patrick: "All teams have the possibility for the teams to rent a personal monitor. Therefor all competitors must take care of some paperwork for renting our monitors. Besides the personal monitors the teams can also get big screens with us. We have some 23inch Samsung Screens with us"




Grass Valley Indigo doing a great job in extreme conditions at Dakar 2014


Patrick: "The Grass Valley Indigo mixer we introduced last year is still in the set, doing a fine job. For now I will tell about what we have on location."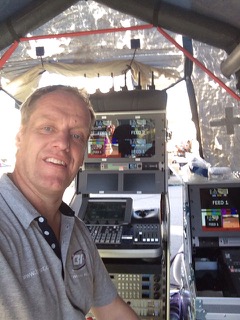 We brought also 20 Samsung 23 inch led screens , A lot of personal monitors . ABE DVBt modulator with 350 watt Amp with a Katrein antenna used at the start , rest days and finisch. Further more all signals are transported by fibre as are the signals to the transmitters. than we have our case"
Case 1:
Gras Valley Indigo video/audio mixer
HD view , duo monitor , 4 SSD recorders , 1 multidock , router 16x16 , audio monitor all from Blackmagic Design
2 DVD Players from Tascam
Case 2:
EVS LSM
EVS 6 Channel LSM
Multiviewer
Telestream Pipeline HD
Case 3:
Remote EVS lSM
Remote LSM
HD monitor
Audio monitor
Case 4 & 5, each case has an:
Encoder
Modulator
Amp 20 watt
Antenna
About Patrick Hendriks:

Patrick Hendriks performs his profession by his company
BP Satellite Solutions B.V.
Oosterweg 40
6602HE Wijchen
The Netherlands
BP Satellite Solutions B.V. is specialized in sales, rental installation and de-installation of satellite transmitter and receiver systems. Besides this, BP Satellite Solutions B.V. has its own technical maintenance service, supplies SNG services and is the address for ecologically sound disposal of all your broadcast equipment.
The first time Patrick Hendriks came into contact with transmitting was in 1978 through a twelve channel AM transmitter. From that moment his love affair with transmitting began. In 1980 he switched to FM 27 Mhz followed by a local radio station "Keizerstad" in Nijmegen .
The appearance of the first ASTRA satellite on the scene was Patrick's first encounter with satellite television. That, in combination with his love for transmitting led to a newfound interest. This was also the time that he started installing "dishes" for family and friends.
Patrick now has more than 25 years experience in the field and he has been globally active for the last 11 years.
A little over fifteen years ago, Patrick switched to professional broadcasting. As an SNG operator he started with Sonotech in Hilversum after which he was an employee of
United Broadcasting Facilities
when they acquired Sonotech.
After his stint at United it was time for a new challenge. Patrick became a freelancer and went to work for
New Skies
as a Payload Operations Controller. This brought him into contact with the other side of the professional spectrum. However, after two years the bug bit him once again and he returned to professional broadcasting.
The years followed Patrick was working as Technical Director for the German frim
WIGE MEDIA AG
. In that role he was responsible worldwide for the Formula 1 broadcasts of RTL Germany, RTL Netherlands,
Sky Italia
and
ZDF Germany
.
As BP Satellite Solutions B.V. Patrick now takes care of all facilities for the
F1 broadcasts
for
MTV3 Finland
,
Setanta Ireland
,
ViaSat Sweden / Denmark / Norway
and
RTL Netherlands
. Also he still is hired by
WIGE MEDIA AG
for the final report of the
Formula 1
.


mentioned:
Dakar

BP Satellite Solutions B.V
Samsung
Black Magic Design
Grass Valley
Telestream Pipeline
EVS
Wohler
Tascam
Zandar (Harris corporation)
Leitch (Harris corporation)
Flashlink
Katrein